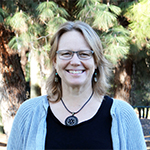 Kim Carpenter passed away peacefully on July 4, 2019, after an eight-month battle with ovarian cancer. She leaves behind her husband Tim, her children Elsa and Ian, her father Vic Holanda, brothers Travis Bounsall and Jay Holanda and their families, as well as a wide community of co-workers and academic colleagues. She was important to people throughout the archaeological community as a scholar, leader, mentor, role model, and friend, and she will be missed deeply.
Kim was born in Montpellier, Idaho, in 1967, and spent most of her childhood in California. She graduated from CSU Long Beach in 1992 with a degree in anthropology. During her early years as an archaeologist, she worked at various cultural resources management firms, including Archaeological Resource Management in Anaheim and at Biosystems Analysis in Santa Cruz. She returned to school in 1995, entering the graduate program at CSU Chico, working primarily under Frank Bayham, where she gained expertise with faunal analysis, which remained her primary research interest throughout her career. Upon completing her master's degree work in 1997, she entered the PhD program at the University of Utah under Jack Broughton, but ultimately decided to return to her career in CRM rather than finish the program.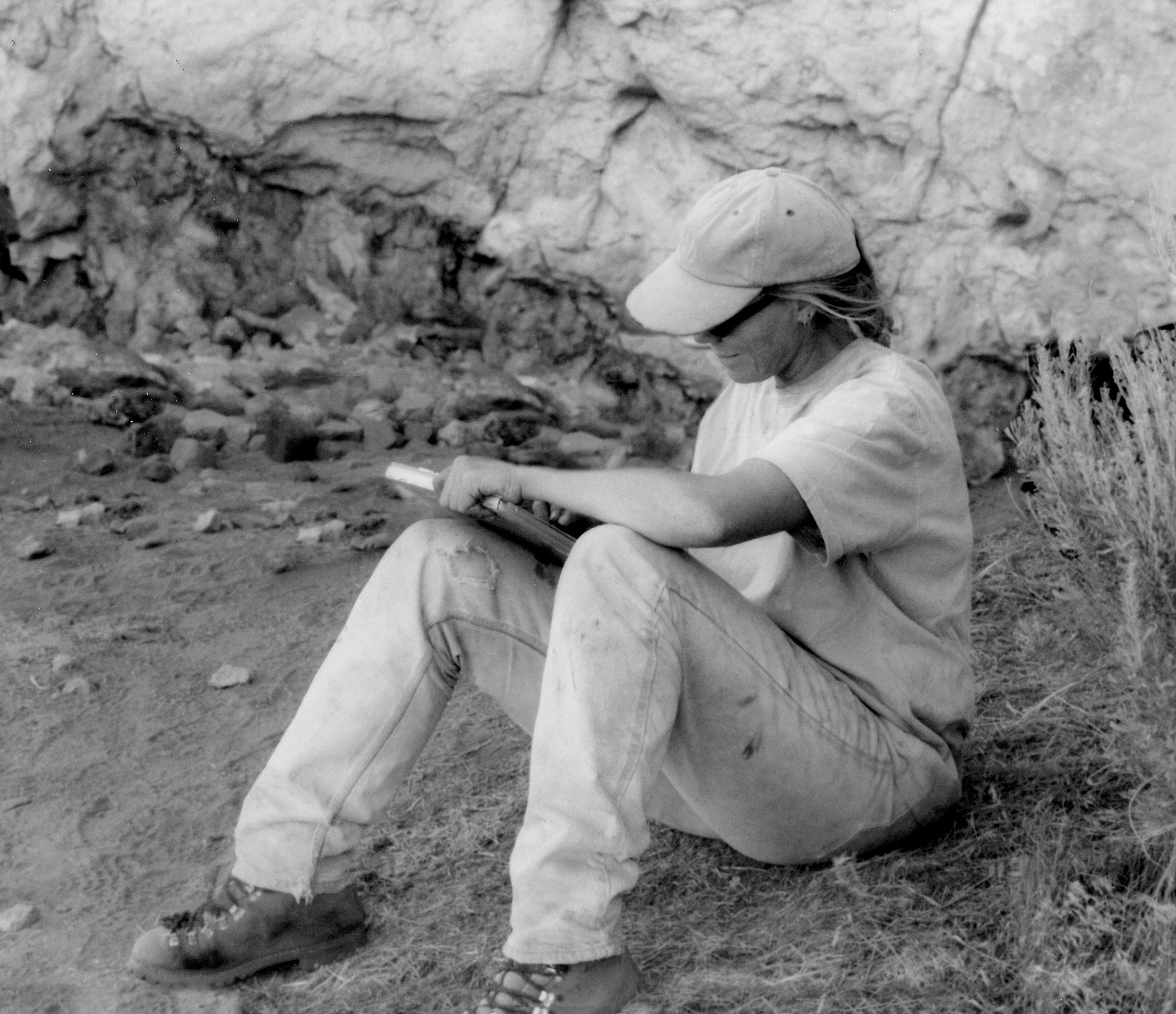 Kim began working with her future Far Western colleagues in the late 1990s on the Tuscarora Pipeline and Alturas Intertie projects, two large data-recovery projects in northeastern California that served as training grounds for many archaeologists in her cohort. It was here, too, that she met Tim Carpenter, whom she would marry in 2000. She took a permanent job with Far Western in 1998, and quickly distinguished herself as both a researcher and businesswoman. She became a principal at the company in 2004, serving as principal investigator and project manager on a wide variety of projects throughout California and the Great Basin.
While working as a full-time CRM professional, she made several important contributions to the theory and practice of archaeology in the western United States. With Bill Hildebrandt, she authored a chapter on California fauna in the Handbook of North American Indians (Hildebrandt and Carpenter 2006) and a chapter on hunting adaptations in California for another Smithsonian volume, Indigenous Subsistence Economies of North America (Hildebrandt and Carpenter 2011). She was integral to the debate regarding Middle Archaic hunting and costly signaling in the Great Basin. Her faunal data (the internally famous "Holanda table of Eastern California mammalian bone") was the linchpin of the costly signaling argument; she contributed to two comments that factored into the debates (McGuire et al. 2007; Whitaker and Carpenter 2012). She authored or co-authored book chapters and articles focusing on Great Basin faunal assemblages and what they could reveal about prehistoric subsistence and intertribal interactions (Bayham et al. 2012; Holanda 2004). Her scholarly contributions were not just limited to published research. She served as Associate Editor of the Journal of California and Great Basin Anthropology (2007-2012), and the Member at Large (2004-2008) and Treasurer (2012-2019) of the Great Basin Anthropological Association.
In a hierarchy of owners, supervisors, and staff typical of many CRM companies, Kim's rise at Far Western was remarkable. A rare combination of research capabilities, managerial savvy, and interpersonal skills propelled her from backdirt to boardroom. In 2015, by unanimous acclaim, she was elected president of Far Western, and then re-elected for two more terms.
One of the most impressive things about Kim was the sheer breadth of her interests and imagination. Happy to review an invoice, discuss Human Behavioral Ecology, pitch a client, identify a bone fragment, edit a report, counsel a wayward tech, or serve on the Board of Directors of the Cache Creek Conservancy, Kim was unbounded. Companies need such a person; the world needs such people.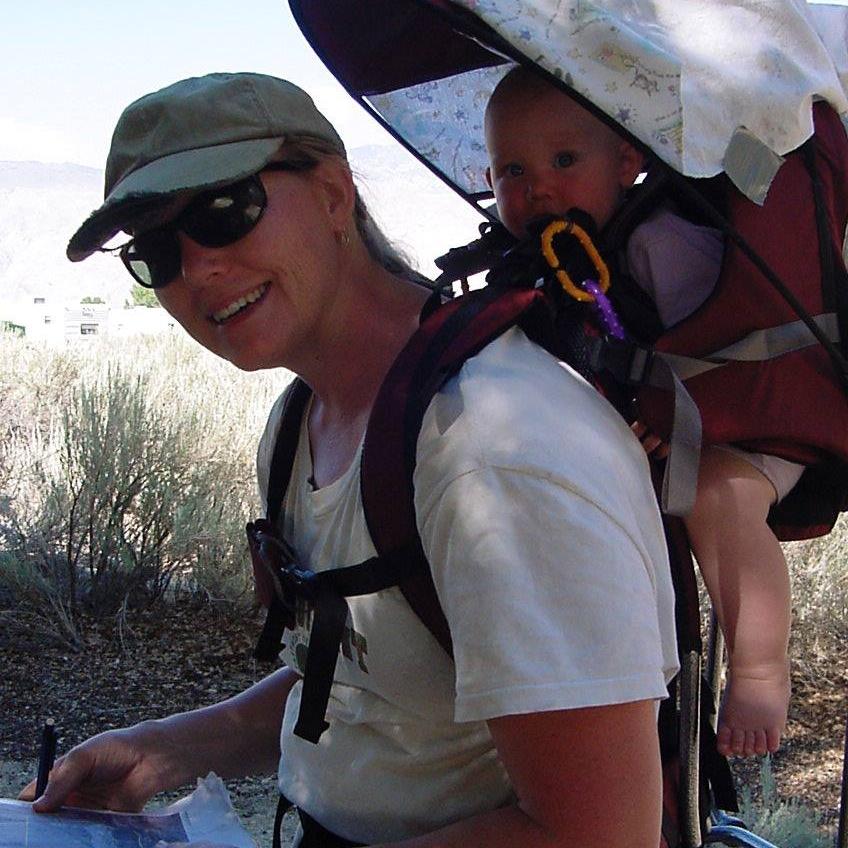 In the midst of her remarkable career, she also raised, along with her husband Tim, her two children, Elsa and Ian. The devotion and intensity she brought to her work didn't miss a beat at home. It was not unusual to see Kim blow out of Far Western at 4:00 to make a soccer practice drop-off, return to work for more desk and screen time, and then make the 7:00 pick-up. All in a day's work (along with stopping at the store on the way home to pick up dinner). This was Kim.
As tributes to Kim surfaced on social media and in condolences offered to her colleagues, a recurrent theme was obvious—Kim as mentor. As attested by many, Kim was an exemplary teacher and role model who had the unique capability to understand one's strengths and weaknesses, perspectives, and personal challenges. Last summer she posted a picture of movie superheroes on her office wall with the text "Everyone has a super power." Kim excelled at identifying and nurturing the super power in everyone. Those of us in the void left by her absence can only aspire to follow her example, by extending the same qualities of empathy and understanding to our own colleagues and friends.
By Jerome King, Kelly McGuire and Adie Whitaker
Kim Carpenter's Scholarly Contributions
Whitaker, Adrian R. and Kimberly Carpenter
2012 Economic Foraging at a Distance is Not a Question of If but When: A Response to Grimstead. American Antiquity. 77(1):160-167.
Bayham, Frank E., R. Kelly Beck, and Kimberley Carpenter
2012 Large Game Exploitation and Intertribal Boundaries on the Fringe of the Western Great Basin. In: Meeting at the margins: Prehistoric Cultural Interactions in the Intermountain West. Edited by Dave Rhode. University of Utah Press, Salt Lake City, Utah.
McGuire, Kelly, Kimberley Carpenter, and Jeffery Rosenthal
2012 Great Basin Hunters of the Sierra Nevada. In: Meeting at the margins: Prehistoric Cultural Interactions in the Intermountain West. Edited by Dave Rhode. University of Utah Press, Salt Lake City, Utah.
Hildebrandt, W.R. and K. Carpenter
2011 Native Hunting Adaptations in California: Changing Patterns of Resource Use from the Early Holocene to European Contact. In Indigenous Subsistence Economies of North America, pages 131-146. Edited by Bruce Smith. Smithsonian Institution Scholarly Press. Washington D.C.
McGuire, Kelly R., William R. Hildebrandt, and Kimberley L. Carpenter
2007 Costly Signaling and the Ascendance of No-Can-Do Archaeology: A Reply to Codding and Jones. American Antiquity, 72(2), pp. 358-365.
Hildebrandt, William R., and Kimberley Carpenter
2006 California Animals. In Environment, Origins, and Population, edited by Bruce Smith, pp. 284-291. Handbook of North American Indians 3, W. C. Sturtevant. Smithsonian Institution, Washington, D.C.
McGuire, Kelly R., Michael G. Delacorte, Kimberley L. Carpenter
2006 Archaeological Excavations at Pie Creek and Tule Valley Shelters, Elko County, Nevada. Nevada State Museum Anthropological Papers number 25.
Holanda, Kimberley L.
2004 Reversing the Trend: Late Holocene Subsistence Change in Northeastern California. In Boundary Lands: Archaeological Investigations along The California-Great Basin Interface. Kelly R. McGuire, Editor. Nevada State Museum Anthropological Papers Number 24.
Broughton, Jack M., Rampton, Dominique, and Holanda, Kimberley
2002 A test of an osteologically-based age determination method in the Double-crested Cormorant (Phalacrocorax auritus). Ibis 144: 143-146.
Holanda, Kimberley
1994 Excavations at the Laguna Springs Adobe Site (ORA- 13B): Stagecoach Waystation and Prehistoric Camp Part III. Faunal Analysis: Invertebrates. In: Pacific Coast Archaeological Society Quarterly: 30(2/3):21-24.