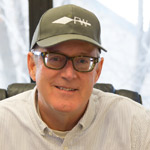 Email Kelly
One of the original founders of Far Western, Kelly has more than 35 years of archaeological experience, primarily in California and the Great Basin. Along with his duties as Chief Financial Officer (1979-2019) and President (2019-2020), he has supervised cultural resources programs for a variety of water resources, communication, resource management, transportation, military, and energy-related developments. Kelly's research interests include California and Great Basin hunter-gatherer adaptations and foraging theory focusing on human behavioral ecology. His work has appeared in books and encyclopedias, as well as in American Antiquity; Journal of California and Great Basin Anthropology; Quaternary Research; Journal of Ethnobiology; University of Utah Press Anthropological Papers; Museum of Anthropology Occasional Papers in Anthropology, CSU-Bakersfield Occasional Papers in Anthropology; and Nevada State Museum Anthropological Papers. Kelly maintains an abiding interest in outreach efforts for archaeology. He has developed a number of pamphlets and web-based modules for educational institutions and the general public, co-produced a feature-length documentary The Obsidian Trail which was aired nation-wide on PBS, as well as Breaking New Ground: Native Americans Working as Archaeologists.
Kelly's Featured Projects
Battle Mountain Pasture/Rye Patch Inventory Project
Kelly's Featured Publications
McGuire, Kelly R., William R. Hildebrandt, Amy J. Gilreath, Jerome H. King, and John E. Berg
2013
The Prehistory of Gold Butte: A Virgin River Hinterland, Clark County, Nevada. University of Utah Anthropological Papers No. 127. Salt Lake City, Utah.
Hildebrandt, William R., and Kelly R. McGuire
2012
A Land of Prestige. In Contemporary Issues in California Archaeology, edited by Terry L. Jones and Jennifer E. Perry, pp. 133-151. Left Coast Press, Walnut Creek, California.